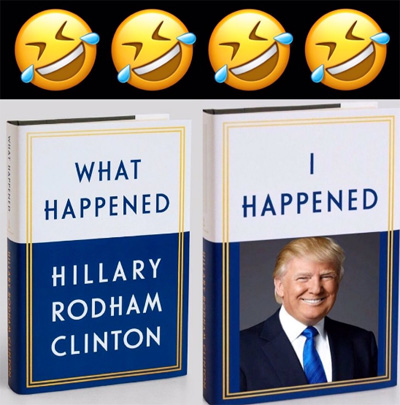 President Donald Trump has shown no indication of backing off his tweeting, despite the media's reports that new Chief of Staff General John Kelly intended to clamp down on his social media use, as Trump's latest retweet has been causing yet another media meltdown.
Only hours after returning to Washington DC from visiting the areas of Texas impacted by the flood, President Trump retweeted a meme that was originally tweeted by user @Team_Trump45. The picture shows a picture of the cover of Hillary Clinton's new memoir titled, "What Happened" accompanied by a picture. Next to the picture of Clinton's book cover is the very same book, except with the title "I Happened" above a picture of a smiling Donald Trump.

The banner of crying smiley faces likely sums up the tone of Clinton's new book perfectly. As of the time of writing this article, the tweet has over 21k retweets and 61k likes.
Without missing a beat after tweeting out a funny meme mocking Hillary Clinton, Trump went on to announce positive manufacturing numbers, encouraging words for Texas and a reminder that Sunday was declared National Prayer Day by presidential proclamation.
Remember, Sunday is National Prayer Day (by Presidential Proclamation)!

— Donald J. Trump (@realDonaldTrump) September 3, 2017
Just got back to the White House from the Great States of Texas and Louisiana, where things are going well. Such cooperation & coordination!

— Donald J. Trump (@realDonaldTrump) September 3, 2017
The Manufacturing Index rose to 59%, the highest level since early 2011 - and we can do much better!

— Donald J. Trump (@realDonaldTrump) September 3, 2017
Responses to Trump's retweet were overwhelming positive, despite the fact that automated Twitter bots typically reply instantly with negative statements or insults the second the president sends out a tweet.
Funniest retweet EVER! Thanks, Mr. President!! Love you more every day!

— Susan_Sloate (@Susan_Sloate) September 4, 2017
Love love it - laugh so hard I nearly peeped my pants. Great sense of humour 💕

— Caroljv (@gooseberri) September 4, 2017
Love ❤️ Love ❤️Love ❤️. #MAGA #AmericaFirst

— Lori J B (@barrlj) September 4, 2017
Hillary is the only one who doesn't seem to know
what happened. She can't handle the truth. Sad.

— Mary Norton (@495eaglerock) September 4, 2017
Love this! 😂😂😂 👍🏼

— Samantha Smith (@samantha20157) September 4, 2017
This wasn't the first time President Trump triggered leftists with a simple retweet. In July, Trump set off a media firestorm by retweeting a brief animation showing him tackling a person with CNN's logo cropped on their head during a WWE wrestling match he starred in years ago.
#FraudNewsCNN #FNN pic.twitter.com/WYUnHjjUjg

— Donald J. Trump (@realDonaldTrump) July 2, 2017
Although the leftist media, and even some conservative icons such as Michael Savage, are critical of Trump's tweets and believe they should be "more presidential" or he should stop using Twitter altogether, the vast majority of his base consistently enjoys his communications. In truth, social media is the only mechanism in which President Trump can reach millions of people without the bias of the mainstream media. With over 37 million subscribers to his Twitter account alone the president has successfully bypassed the press, much to their disdain, which has triggered media outlets to constantly criticize his tweeting.
Despite their best efforts, however, President Trump is showing no signs of letting up with both his presidential announcements and humorous memes on social media.
---