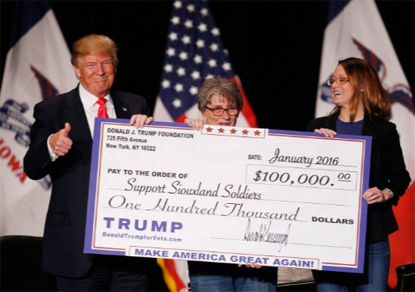 Leave it to the mainstream media to take an act of charity on the part of President Donald Trump and spin it into a negative, claiming that Trump has gone back on his promise to not take a presidential salary, when in reality he is required to accept a paycheck, so instead he has chosen to donate the entire amount to charity.
During his campaign last year Donald Trump spoke at his rallies about refusing to take a presidential salary, or if possible accept the amount of $1.00 per year if he was required to receive a paycheck.
Trump followed up on his promise during his first broadcast interview after the election, which was on 60 Minutes with Lesley Stahl, saying that, "I think I have to by law take $1, so I'll take $1 a year." Lesley Stahl responded by noting the amount he is sacrificing, "$400,000 you're giving up," she responded. Trump continued with his pledge, stating that what's truly important is helping Americans and improving the country.
After Trump's claims, mainstream media outlets tried to spin his charity as a negative, with Politico outlining how important it is to national security for a president to accept a salary.  In fact, they wrote an entire article outlining the story of George Washington's initial refusal to accept payment for his presidency, and why Congress ultimately denied that decision.
For these reasons, the first Congress refused Washington's offer to serve without pay—and in doing so, consciously set a precedent for the future. It did not want to risk that Washington's refusal would become the norm rather than the exception. As representative John Page of Virginia put it, "the Constitution requires that he shall receive a compensation, and it is our duty to provide it." Note that Congress did not try to evade the spirit of the Constitution by providing him a token salary. Congress voted Washington an annual salary of $25,000; the president backed down and accepted the payment. It was an implicit recognition that future presidents could be corruptible, and should be bound to the public interest as tightly as possible.
In essence, the founding father's did not want Washington's refusal to accept a salary to become a precedent that future president's would feel obligated to follow.  An obligation that could turn some future leaders to other methods of gaining income, which could end up comprising their integrity or make them susceptible to bribery..
Now, only months after the mainstream media attempted to minimize this selfless act on Trump's part, implying that he must accept a salary to minimize the possibility of compromising the integrity of his office (as outlined in U.S. Constitution Article 2, Section 1), now they are criticizing him for supposedly breaking his promise.
Mainstream news outlets are blasting Trump for accepting a salary as he is required to do, yet choosing to donate the proceeds to charity, with ABC actually publishing a headline titled "Trump plans to donate salary, despite pledge not to take one".
ABC's headline attempts to portray Trump as lying to his supporters, despite the fact he is obligated to accept a salary, but has chosen the most charitable method of fulfilling his claims.
President Donald Trump has been drawing a salary — despite pledging not to during the campaign and after the election — but plans to donate the money to charity, according to press secretary Sean Spicer.

With almost two months of service as president of the United States under his belt, Donald Trump has earned over $50,000 in salary. Spicer says that money will be given away by the end of 2017.

Asked at Monday's press briefing about Trump's previous claims that he wouldn't keep his salary, Spicer said that the president's "intention right now is to donate his salary at the end of the year." He went on to say that Trump wanted the White House press corps to "help determine where that goes."

"The way we all can avoid scrutiny is to let the press corps determine where it should go," said Spicer. "In all seriousness… he made a pledge to the American people, he wants to donate it to charity and he'd love your help to determine where it should go."

The president's salary, which is paid out monthly, has been $400,000 per year since 2001.

Spicer offered no indication Monday that Trump was forgoing payment, despite Trump's disinterest in receiving compensation which spans back at least 18 months.

During a video question and answer session with Twitter users in September 2015, Trump responded to an inquiry asking whether he would take a salary.

"As far as the salary is concerned, I won't take even one dollar," said Trump. "I am totally giving up my salary if I become president."
After Sean Spicer joked about letting the press decide where Trump's donated salary should end up, one reporter suggested it go towards supporting "journalism scholarships".
Spicer says Trump will donate salary at end of the year and is taking recs from WH Press corps on where it goes: I vote @pressfreedom

— Katy Tur (@KatyTurNBC) March 13, 2017
Spicer says the press corps should help Trump decide where to donate his salary. I suggest the Reporters Committee for Freedom of the Press.

— Josh Rogin (@joshrogin) March 13, 2017
Ironically, if Trump's salary were to go towards this cause, he would essentially be funding the very journalist who are trying to oust his highest ranking advisors and work against his every policy.  I have a feeling that Trump is not willing to donate his $400,000 a year salary to the very people bent on destroying him.
The core takeaway from ABC's story is the fact that no matter how charitable, honest or successful President Trump's actions may be, biased journalists in the leftist media will always attempt to place a negative spin on his actions.
You can bet the bank that if Barack Obama had chosen to donate his salary to charity, which he did not, the mainstream media would be fawning over his decision.  Yet, since Donald Trump is a conservative, his charitable actions will always be maligned and distorted by the press.
Is it any wonder that President Trump once branded the "fake news media" as the "enemy of the people"?
The FAKE NEWS media (failing @nytimes, @NBCNews, @ABC, @CBS, @CNN) is not my enemy, it is the enemy of the American People!

— Donald J. Trump (@realDonaldTrump) February 17, 2017
After reading various headlines over the past months I am convinced that if Trump ended world hunger, the media would claim he is throwing farmers out on the streets. If Trump cured cancer, the press would complain he is collapsing the medical industry and putting doctors out of work. The more good Trump does for America, the more hateful the media's portrayals of him will become.
---